Christians will make up an overwhelming majority of those serving in the House and Senate during the 118th Congress, according to new analysis from The Pew Research Center.
Listen to the latest episode of CBN's Quick Start podcast 👇
In a report titled "Faith on the Hill," the polling organization explores 534 of the 535 members' religious affiliations, finding 88% of Congress in the 2023-2024 session self-identifies with some form of Christianity. The 535th member, Congressman-elect Donald McEachin, died before taking office and will be replaced in a February special election.
These religious demographics are noteworthy, considering just 63% of Americans call themselves Christian. Thus, the percentage of Christians in Congress outpaces the proportion of citizens claiming the same religious designation.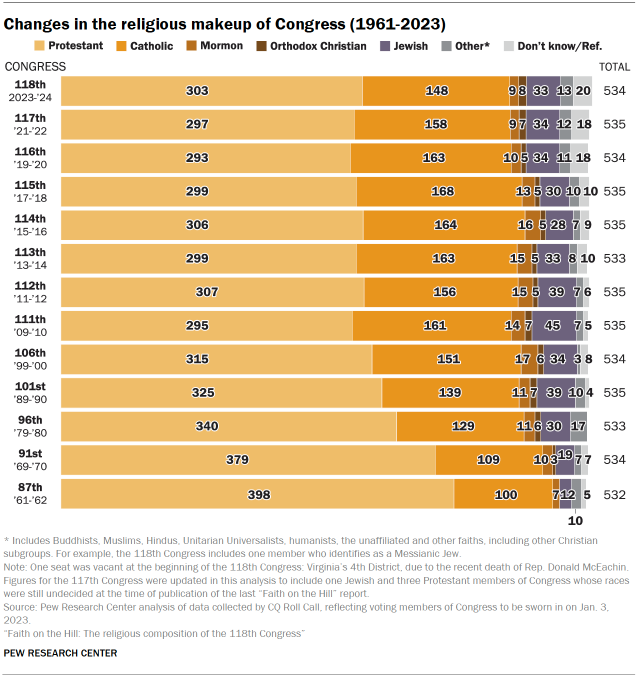 Denominational percentages and designations are also quite interesting, with Protestants outpacing other religious cohorts.
"There are 303 Protestants in the new Congress, an increase of six from the previous Congress and the first time in four sessions (since 2015-2016) that the number has topped 300," Pew noted in its report. "The new Congress has 148 Catholics, 10 fewer than the 117th."
Despite the decrease, Catholics still comprise about 28% of Congress, outpacing the 21% of Americans who identify as Catholic.
Meanwhile, there are nine members in Congress of the Church of Jesus Christ of Latter-day Saints, eight Orthodox Christians, and one Messianic Jew.
Just 65 members of Congress are not Christian. Among those cohorts, 33 are Jewish, accounting for 6% of Congress and outpacing the 3% of Americans who call themselves Jewish.
Among the non-Christians, there are also three Muslims, two Buddhists, one religiously unaffiliated, and one humanist.
An additional 20 members of Congress have "unknown religious affiliations," according to Pew.
These proportions and numbers give a lens into the theological makeup of the legislature, though they also paint an interesting picture when comparing the composition of Congress to the general population.
While Christianity, for instance, has dwindled from 78% of the U.S. public in 2007 to the 63% currently observed, the Christian composition of Congress has barely changed in recent years.
Read the full Pew report here.
***As the number of voices facing big-tech censorship continues to grow, please sign up for Faithwire's daily newsletter and download the CBN News app, developed by our parent company, to stay up-to-date with the latest news from a distinctly Christian perspective.***