The outpouring that began with the Asbury Awakening is reaching more young people as it marches on to both Christian and secular university campuses, churches, and youth events literally from one end of the country to another.
As CBN News has reported, what some have referred to as a potential new great awakening within Christian history started as a spark on the campus of Asbury University, where thousands of Christians gathered for two weeks of Spirit-led worship, prayer, and repentance. That unplanned outpouring is raising hopes because a previous revival in 1970 on the Asbury campus was seen as a significant driver behind the Jesus Movement of the '70s.
Listen to the latest episode of CBN's Quick Start podcast 👇
Paul Worcester, national collegiate director of the North American Mission Board for the Southern Baptist Convention, tweeted a video clip from a Sunday night meeting, writing that "God showed up" in Oahu, Hawaii's North Shore.
"God showed up in a powerful way at the Young Adult night on the North Shore of Oahu last night! 12 indicated decisions to repent and trust Christ and many others made decisions to surrender and pursue personal revival! They even extended the meeting because how God was moving," Worcester wrote. 
Meanwhile, 3,745 miles away in Norman, Oklahoma, the Holy Spirit is on the move and a big opportunity for revival is coming to the campus of the University of Oklahoma.
In a recent Facebook post, evangelist Nick Hall reported his Pulse ministry has "booked the 86,000-seat football stadium at the University of Oklahoma for the largest student-led outreach I have ever heard of."
Hall reminded his followers that God is faithful.  "If he can use this broke and broken kid from North Dakota, with no connections, He can use you!!!" he wrote. "He's moving today. Revival is in the air. Put up your sails and let him take you."
Meanwhile, the word about the Asbury Awakening continues to spread and has made it all the way to Maine.
Greg Gordon, the founder of SermonIndex.net, has been tweeting photos and clips from various places around the country. On Monday, he wrote he had met an Amish man in Maine who had heard about the Asbury revival.
"Speaking today with an Amish man in Maine. He knew about the revival in Asbury!!! He said Revival is about Repentance. I said, 'Amen.'
Revival fame is spreading.  Even the Amish know! God spread it more."
During a telephone interview with Fox News on Monday, California Pastor Samuel Rodriguez said it's no accident that Asbury University in Wilmore, Kentucky, played host to a Christian revival with thousands of people just as the film Jesus Revolution hit theaters.
"If you were a skeptic," Rodriguez, the senior pastor at New Season Church in Sacramento, said, "you would label this as a coincidence. But if you're a person of faith — you see this as divine providence. It can't be a coincidence."
He added, "God is in charge. God is up to something. And that's the great news."
Rodriguez told Fox this is not just about the Asbury revival. "It's what's happening across the country," he said. 
CBN News has been reporting from the beginning of the spiritual awakening that began at Asbury University. Here's a list of known locations where outpourings have occurred already: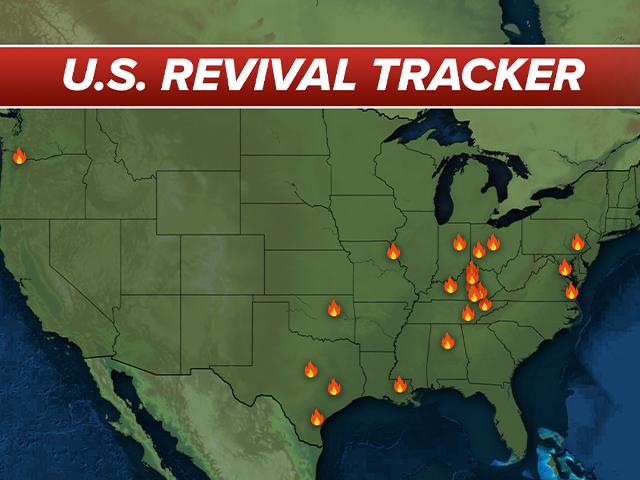 U.S. Revival Tracker:
Asbury University – Wilmore, KY 
Rupp Arena – Lexington, KY
Western Kentucky University – Bowling Green, KY
Union College – Barbourville, KY
University of the Cumberlands – Williamsburg, KY 
Eastern Kentucky University – Richmond, KY
Lee University – Cleveland, TN
Grace Christian Academy – Knoxville, TN
Samford University – Birmingham, AL 
Cedarville University – Cedarville, OH
Ohio State – Columbus, OH
Indiana Wesleyan University – Maron, IN
Valley Forge College – Chester County, PA 
Hannibal-LaGrange University – Hannibal, MO
Texas A&M Corpus Christi, TX
Texas A&M College Station, TX
Baylor University – Waco, TX
Louisiana State University – Baton Rouge, LA
Oral Roberts University – OK 
Youth event in Portland, OR
Regent University – Virginia Beach, VA
Church event in Washington, D.C.
***As the number of voices facing big-tech censorship continues to grow, please sign up for Faithwire's daily newsletter and download the CBN News app, developed by our parent company, to stay up-to-date with the latest news from a distinctly Christian perspective.***