Just months after the Asbury revival took the world by storm, a recent story about more than 4,100 baptisms unfolding at a historic California beach is inspiring the faithful.
Listen to the latest episode of CBN's Quick Start podcast 👇
Daniel Mamora, a worship leader at Calvary South OC in San Clemente, California, was on-site at Pirate's Cove, the location of the historic Jesus people movement captured in the film "Jesus Revolution," to watch the incredible Baptize SoCal event unfold.
He said the scene, which involved people from 300 churches, was deeply moving.
"It just shows them … that people know a true living God [who] loves, saves, heals, and delivers, and that wants to be your friend," he said. "It was so incredible, just seeing all these people come together."
Mamora said he was sitting atop a cliff watching the baptisms unfold and was mesmerized by the massive line of people stretching deep into the parking lot.
"It … blew me away," he said.
The massive event, which reportedly attracted 8,000 spectators, is the latest "revival" moment to unfold in 2023, leaving believers encouraged. Watch Mamora detail what he observed:
The Baptize SoCal effort was spearheaded by Pastors Mark and Rachelle Francey of Oceans Church in California, with Mamora noting the couple wanted to "get the church together" in an effort to "create another Jesus movement."
And it appears this is just the latest move of God adding to speculation about what's spiritually happening in the midst of exacerbating social disorder and chaos.
Mamora spoke about the prayerful moments that have dominated recent months. First, there was NFL star Damar Hamlin's cardiac arrest and the prayer outpouring that followed, them Asbury revival, followed by the monumental release of the "Jesus Revolution" film.
It was Asbury, though, that really seemed to set spiritual fires ablaze.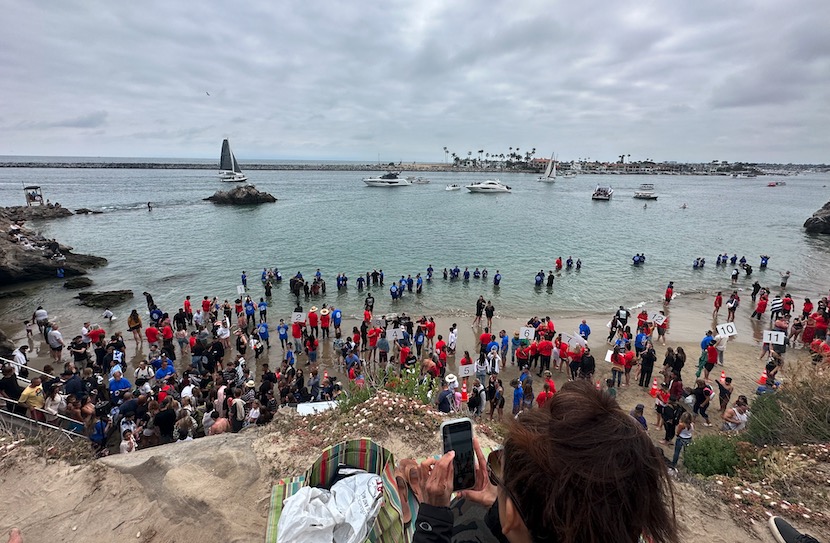 "What kind of like sparked in a little college campus, it just sparked everywhere," Mamora said. "For people just to come together and just simply worship, and regardless of denominational background or where you come from — or even if you are a believer."
The worship leader said the mass baptism event left him with a great deal of hope, noting he has wanted to leave California in recent years based on how the state has been operated. But something held him back from doing so — and Baptize SoCal reminded him of the change that's possible.
"I just felt the spirit of the Lord telling me I need to stay," Mamora said, noting the importance of Christians impacting culture.
Pirate's Cove, the location where the late Chuck Smith baptized people 50 years ago during the Jesus movement, continues to have a profound impact on people's lives.
And Mamora said Smith's legacy lived on even as the most recent mass baptisms unfolded.
"Chuck Smith's grandson was involved in part of the baptism, and he was there baptizing people as well," Mamora said. "So, it's … a really cool thing … to see the family tradition with that start in the Jesus movement and go on to our next generation."
Watch the full interview here for more.
Another Baptize SoCal event is already scheduled for next May.
***As the number of voices facing big-tech censorship continues to grow, please sign up for Faithwire's daily newsletter and download the CBN News app, developed by our parent company, to stay up-to-date with the latest news from a distinctly Christian perspective.***