In many ways, America is at a political crossroads, with social debates intensifying on various issues.
And as LGBTQ matters, abortion, and other cultural concerns take center stage and dominate headlines, some significant shifts are unfolding among the American populace.
Listen to the latest episode of CBN's Quick Start podcast 👇
According to Gallup, there's an uptick in the percentage of adults calling themselves "conservative" or "very conservative," with 38% falling into this category.
This increased from 33% in 2022 to 30% in 2021. Meanwhile, the share of individuals calling themselves "liberal" or "very liberal" is at 29%, down from 34% over the past two years.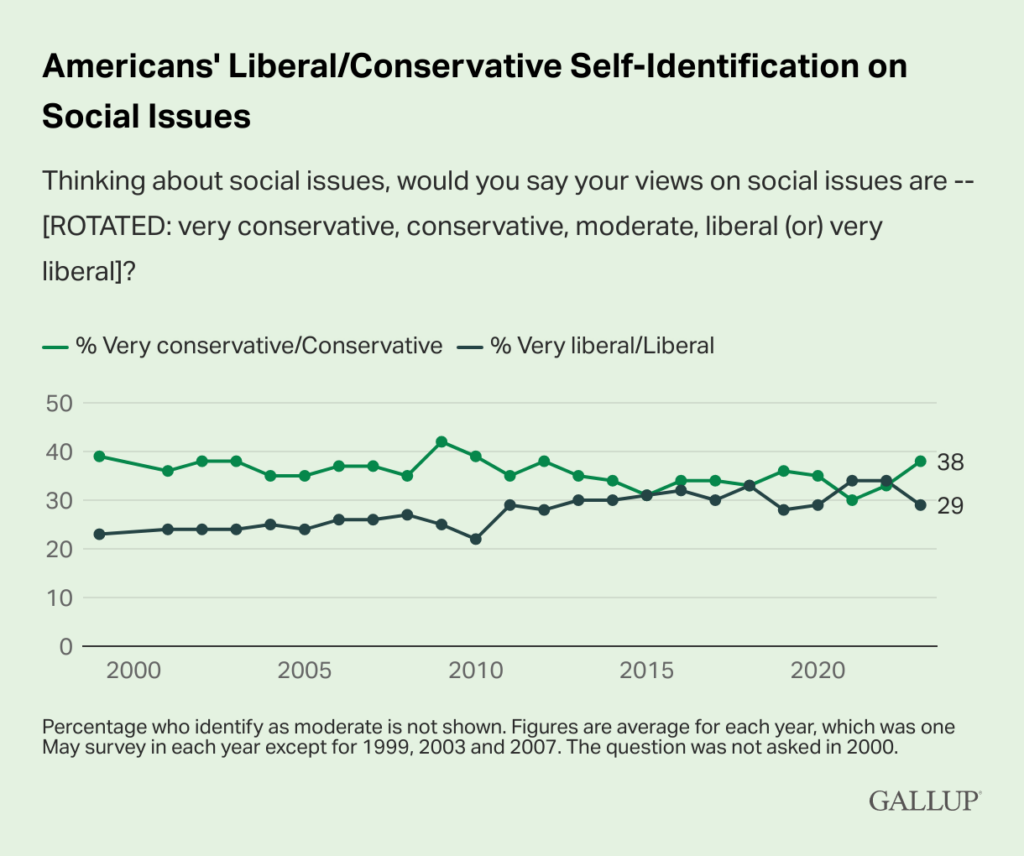 These shifts are particularly notable among young people, with 30% of 18- to 29-year-olds calling themselves conservative on social issues, up from 26% in 2022 and 24% in 2021.
An even bigger 13-point change unfolded among 30-49-year-olds, with 35% falling into the "conservative" category, up from 22% in 2021.
Americans also measured as more conservative on financial matters, with 44% saying they are "conservative" or "very conservative" on economic issues, compared to 21% who are "liberal" or "very liberal," and 31% who are moderate.
These statistics are notable for a variety of reasons. The last time this many Americans were socially conservative was 2012, according to Gallup.
And it all carries over, more specifically, to party identification as well, with the GOP picking up support.
"Republicans show one of the largest increases, from 60% in 2021 to 74% today," the polling organization noted. "Independents show a modest uptick of five percentage points, from 24% to 29%, while there has been no change among Democrats (10% in both 2021 and 2023)."
Gallup concluded by explaining there's a "more obvious conservative advantage" in 2023, noting this could impact the passage of right-leaning legislation on social issues. Read the full findings here.
***As the number of voices facing big-tech censorship continues to grow, please sign up for Faithwire's daily newsletter and download the CBN News app, developed by our parent company, to stay up-to-date with the latest news from a distinctly Christian perspective.***