A Texas pro-life advocate is recovering at home after being viciously assaulted by a man who took issue with his ministry outside an abortion clinic. Since June, "Abortion Clinic LIVE" founder Ryan Roberts has been heading out to Whole Woman's Health in Fort Worth to try and save unborn children. That's exactly what he was doing last Friday when a passerby brutally beat him for preaching the love of Christ. Thankfully, Roberts caught it all on tape.
Abortionist Claims 'God Performs Way More Abortions Than I Do'
Local pastor Mark Dickson of SovereignLOVE Church was there with Roberts when the savage assault took place. He described the shocking incident to Faithwire.
"Those of us who stand on the sidewalks of abortion clinics and who reach out on a regular basis go through a lot," Pastor Dickson, who also serves as a director with Right To Life of East Texas, told Faithwire shortly after the incident. "Not everyone likes what we say and not everyone likes what we do. Sometimes we see them respond violently."
"In the video you will see a man arrive at Whole Woman's Health in Fort Worth. He was not there to drop off or pick up anyone," Dickson further explained. "He just saw us on the sidewalk and decided to stop."
"What you see in the video is our entire interaction with this man. Yet that interaction led to that man stopping in the middle of the road, getting out of his car, and punching Ryan Roberts several times in the face. All for sharing about Jesus Christ."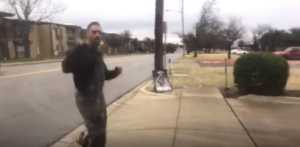 Clearly stunned and with blood pouring down his face, Roberts took a few minutes to compose himself before continuing with his attempts to sway people from terminating the life of their unborn children. It was a remarkable show of courage in the face of such a random and savage attack.
"I knew that was going to happen eventually," Roberts said of the attack. "I told myself if that happened I was going to take it. Like Jesus. And I did."
Astonishingly, Roberts also revealed that he was stunned that it was this particular man that chose to attack him. Why? Because the suspect claimed to be a Christian himself.
"Of all the people who I thought would assault me out here it was not that guy," Roberts explained."That guy had Jesus stickers all over his truck. It was crazy."
Nothing like getting snuggles from your baby girl after getting beat up for trying to save other baby boys and girls. What a day today at the Abortion Clinic. AbortionClinicLIVE.com

Posted by Ryan Roberts on Friday, January 11, 2019
As Roberts re-engaged with his work after the immediate shock of the attack, he delivered some very powerful words, using the attack to his advantage as he carried on preaching the love of Christ:
"Jesus loves you so much! I just got assaulted out here by a random man who drove by. You should see my face. I am covered in blood. But it's okay. Because Jesus was crucified. He was beaten and bloodied. For you. Because he loves you. And He loves that little baby too!"
As Dickson highlighted, when he and his fellow pro-life activists seek to herald the Gospel in such an emotionally charged environment, they are never quite sure how people will take it.
"When we are ministering at the abortion clinic and someone approaches us we do not know if they are going to be for what we are doing or against what we are doing," he said. "All that we know is that inside that clinic they are murdering babies. We are there to proclaim the Gospel of Jesus Christ and to try to save as many of those babies as we can."
Dickson revealed to Faithwire that Fort Worth Police have now identified the suspect and noted that charges will be filed in relation to the committing of a religious hate crime.
We will keep you posted with any updates on this highly disturbing story.