A man whose son and daughter-in-law was gunned down in El Paso at the weekend has decided to publicly forgive the killer.
Gilbert Anchondo lost his youngest son, Andre, in the massacre that claimed 22 lives and left scores more injured.
"The aggressor could be my son," Anchondo said following the shooting, according to the BBC. "I forgive him because he was not in his senses. He had the devil inside of him. I'm a great believer and I forgive what he did."
Tragically, Andre and Jordan have three children together — their two-month-old son was in the arms of his mother when she was gunned down in cold blood. Incredibly, the little one survived.
Gilbert recalled seeing his son headed out to the store on the morning of the shooting. "I saw my son and his wife. Jordan was closing the door. Andre was carrying his newborn baby in his arms. They were getting ready to leave," he said.
Just over an hour later, they were both dead.
"I have a regret. I didn't stop and give him a hug, a blessing and a kiss," Gilbert added. "But I saw them happy. I didn't want to bother them, burst the bubble of happiness."
When the anxious father finally heard of his son's fate, he was informed of Andre's heroic actions during those terrifying final moments.
"They told me I had done a good job with him, because he was a protector of his family," Gilbert said. "He had got between the bullets, flying between his wife and child. And Jordan did what she was supposed to, protecting little Paul."
"It makes me feel proud. If he died under these conditions, I can live with it."
Andre was 'trying to stop the gunman'
According to Andre's brother, Tito, there is store surveillance footage which shows Andre attempting to stop the gunman.
"He lunged forward to grab the gun. Then the bullet went through him and his wife," Tito explained. "I'm very proud of my brother. He died a hero. But I'm sad and angry about what happened."
"There are no words to describe the emotion we are feeling," he added. "It's not a hole he's left, it's a void."
Tito also noted that his brother was an avid supporter of President Trump, and said he would greatly appreciate a visit from the Commander-in-Chief when he flies into town Wednesday.
"My brother is a big Trump supporter and I want him to know our family stands with the president," Tito told the El Paso Times.
The grieving brother also added that many have stepped up to support the family at this devastating time.
"A steady stream of El Pasoans are bringing clothes, diapers, baby wipes and formula to the shop during the day," he said. "I never thought so many people would come. The family could use Enfamil formula, size 2 and 5 diapers and vegetables."
As for his two-month nephew, Paul, Tito said that he would "really like to take care of [him] and give him a family and siblings and things he deserves." He said he wanted to ensure the boy got a "good life, an education" and grew up knowing that "his dad died for him and is a hero."
"God is my savior," Andre wrote on his Facebook profile, adding that he was a "proud husband and Father."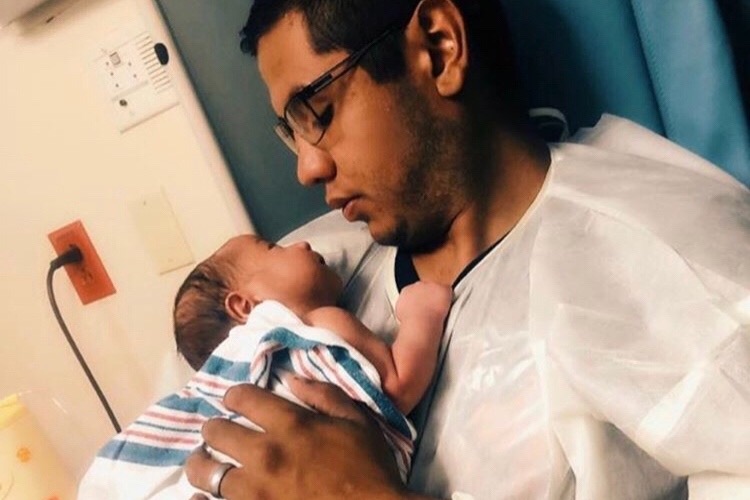 GoFundMe launched
Comments of prayer and condolence have been pouring in on a GoFundMe campaign page, which was launched to help with "future expenses for Jordan and Andre's children."
"Sending God's prayers to the children and family at this time of great sorrow," one person wrote. " My condolences to you and your family. God will guide you and the beautiful child through life and prove good always defeats evil. God Bless," another added. So far, just over $92,000 has been raised.
An official donation campaign, the El Paso Victims Relief Fund, has also been set up to "support victims and their families affected by the tragedy." You can donate here.