Famed prosperity gospel preacher Benny Hinn appears to have rejected his own teaching in a recent talk that left the audience seemingly in stunned silence.
In an astonishing message, Hinn vowed to "correct his theology" immediately, lest he "get to heaven and be rebuked."
The televangelist, who is reported to be worth more than $40 million, is famous for preaching a message of "health and wealth," in which giving money will result in getting more blessings, such as healings and miracles.
The charismatic 66-year-old has spent years appearing on television broadcasts, pleading with viewers to pledge "seed money" in order to release God's financial blessing over their lives.
But with one astonishingly honest address, Hinn appeared to reject it all.
"Today, sadly, among a lot of circles, all you hear is how to build the flesh," Hinn noted in a video clip that has appeared online. "It's a feel-good message … It's all about 'feel good,' 'do good,' all that. Make money, all the rest of it."
Hinn added that he was "sorry to say.. prosperity has gone a little crazy."
"I'm correcting my own theology," he declared. "And you need to all know it."
Expanding on the reasons behind this radical change of perspective, Hinn said he "didn't see the Bible with the same eyes as he did 20 years ago."
The preacher added that it took him some time to muster up the courage to declare this change of heart publicly. "I didn't want to hurt my friends, who I love, who believe things I don't believe anymore," he noted.
Prosperity gospel "an offense to the Lord"
But the charismatic did not stop there.
"I think it's an offense to the Lord to say, 'give a thousand dollars,' I think it's an offense to the Holy Spirit to place a price on the gospel," he bellowed. "I'm done with it."
"The Holy Ghost is just fed up with it," he continued. "It hurts the gospel. I'm making this statement for the first time in my life… frankly, I don't care what people think about me anymore."
Hinn appeared to be on the verge of launching into a full-blown exposition of why the prosperity gospel is heresy, before hastily stopping short.
"When they invite me to telethons, I think they will not like me anymore," he said. "Because when you look at the word of God… I'm not going to get into it right now."
"Am I shocking you? If I hear one more time, 'break the back of debt with $1,000!' I'm going to rebuke them," he continued. "I think that's buying the gospel, that's buying the blessing, that's grieving the Holy Spirit."
"Giving has become such a gimmick, it's making me sick to my stomach," he said. "I've been sick for a while, too, I just couldn't say it. Now the lid is off," he declared, to shouts of "freedom!" from those in attendance.
"I don't want to get to heaven and be rebuked," the preacher concluded. "The gospel is not for sale, blessings of God are not for sale, miracles are not for sale, prosperity is not for sale."
Mixed messages
Despite the strong message seemingly condemning his past teachings on giving, on Hinn's Facebook page there are still videos of him making requests for "seed money." At the end of his latest pre-recorded ministry video, Hinn told viewers that they must "get out of debt by sowing out of debt."
Perhaps those were recorded prior to his latest announcement, and his team has not been made aware of the perspective shift and they haven't been able to change it.
Those questions have yet to be answered. But the recent videos seem to be in line with some of Hinn's past teachings.
"I know that there are a lot of smart people watching me who can get out of debt by getting another job," Hinn added in the recent video, before warning that this is "not the way to do it."
"Sooner or later you'll be back in debt again, because sooner or later you'll because you're depending on yourself.. the problem is a spiritual problem."
"The way to solve it," Hinn explained, "is by sowing seed into the word of God. When you sow yourself out of debt, God builds a hedge of protection around you."
Then, an advert flashes up on the screen, urging people to "SOW A SEED FOR DEBT ELIMINATION!"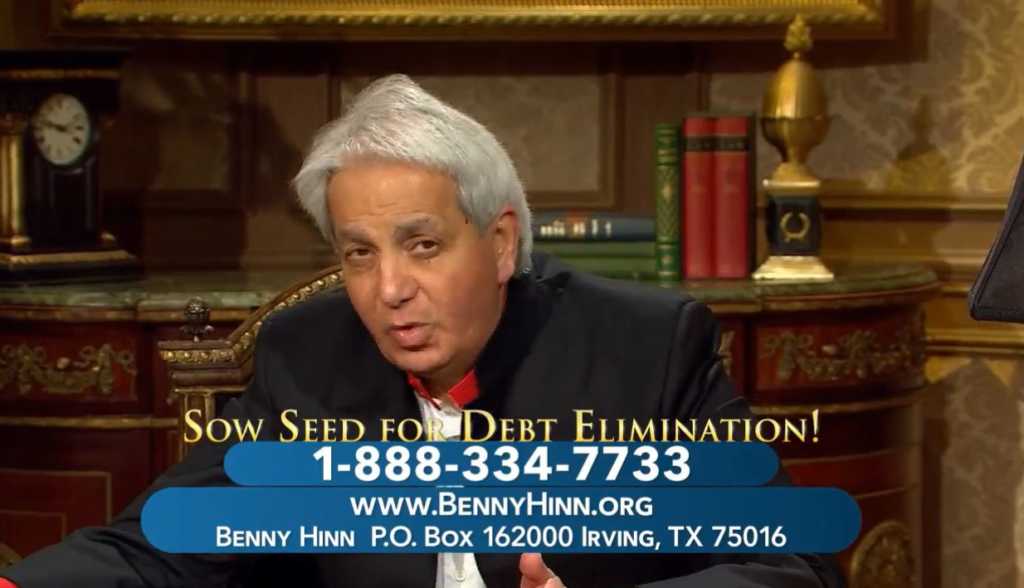 Hinn went on to implore viewers to sow $120, "because the number 120 is the number of deliverance and liberty."
"Maybe you're not going to able to sow the whole amount at one time… fine… sow it in pieces," Hinn said. "But get to it."
"Watch it, expect it, focus on it, it shall be done… for sure," the preacher concluded.
Costi Hinn, Benny's nephew, is a pastor and now a renowned critic of the prosperity gospel and hopes the videos are just recorded and there will be more discussion in the days to come.
Speaking to Faithwire, Costi said that his uncle would be wise "to put out a statement or even do a FB live video saying that he has repented," and to avoid more pre-recorded shows like the one above from being aired, as they contradict his recent retraction.
Hinn noted that "it's definitely an interesting situation and one we've all seen before," adding that he hoped "with each apparent epiphany," his uncle is "truly genuine in repenting."
"Love hopes all things (1 Corinthians 13:7), and I certainly do love him and hope for the best," Costi added. "However, remorse and repentance are two different things so we hope for the latter."
"My prayer is he is more than just sorry because his ministry is in decline or he's getting bad PR. I pray that he turns to Christ and preaches the true gospel with no motive except to be faithful."
This year, Costi released a book which completely debunks the heretical teaching of the prosperity gospel: "God, Greed, and the (Prosperity) Gospel: How Truth Overwhelms a Life Built on Lies."